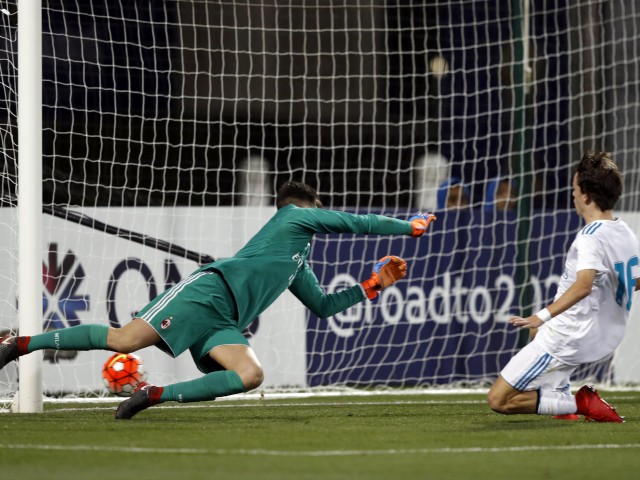 Experts Say – AC Milan vs Real Madrid
Mark Tompkins – Al Kass Analyst

Real Madrid had great control over the ball in the first half, but AC Milan was keeping them at bay. It was a great strike by Fores, 11 minutes into the match, but Zanellato had a good hand over the ball – it was a great save by the Italian goalkeeper. Lancho reacted quickly, before the goalkeeper could do anything, and put that ball in. Real Madrid was constantly looking to move the ball between the AC Milan defense, and the Italians were always up for a challenge. It was Ramirez, who doubled the advantage for Real Madrid, and when the halftime whistle was sounded, it was 2-0 for Real Madrid.

It was much better from AC Milan, in the second half; they had more control over the ball after they came back after halftime. It was the first time today, we had seen players run and shoot with the wind behind them. The Real Madrid players were showing some quick feet tonight. Santos was going for a shot from a long way out, 55 minutes into the game; it should have been a goal. Manuel Fernandez did not look very happy in the second half. It was a great individual effort by Vassilakis, straight through the legs of Zanellato, which brought another goal for Real Madrid.

Chris Makin – Al Kass Analyst

Wonderful play by Real Madrid, right from the start of the game; they were playing better of the two sides. AC Milan was very busy on the far side, and Brusa was showing some great tackling skills today. There was a very stiff breeze blowing from the right to left direction tonight. Soon, we were looking at some brilliant action from Lancho; it was a great shot into the net. It was a superb play from Real Madrid, which brought their second goal. Ramirez had great pace on the ball, even though he did not have the wind on this side.

AC Milan was putting on good pressure in the second half. There were constant free kicks in the second half, and some heavy challenges. I couldn't think of any another game, where there were so many free kicks just in one half. We were expecting these two teams to have a bit more flow in the game, but there was absolutely no flow tonight. It was a mistake by Zanellato, which made it 4-0 for Real Madrid; he let the ball slip right through his hands.