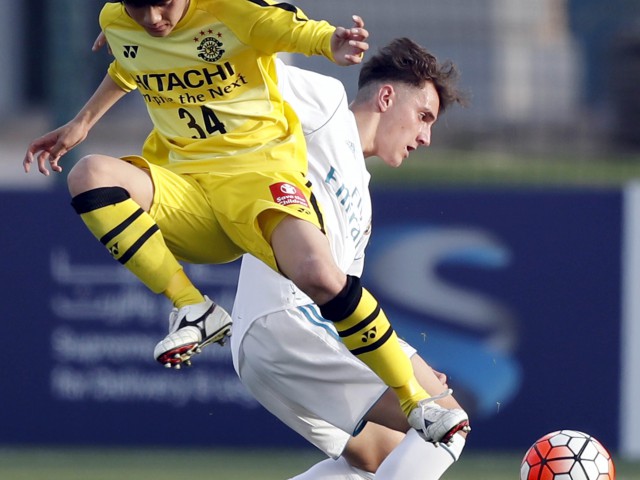 Late Heroics Send Kashiwa Reysol, PSG to Semi-finals
A pair of thrilling matches provided an exciting conclusion to the 2018 Al Kass International Cup quarterfinals, setting up a semi-final field with the potential for even more drama.

Kashwia Reysol avenged their quarterfinal loss to Real Madrid a year ago with a 3-2 victory over the Spanish side, ousting the defending tournament champions. They'll be joined in the final four by Paris Saint-Germain, who outlasted Aspire Football Dreams on penalties after a scoreless full time.

In the night's first match, Kashiwa Reysol maintained its disciplined defence, absorbing Madrid's repeated attacks and looking for their own chances on the counterattack. The strategy came to fruition eight minutes into the match, when Kashiwa captain Mao Hosoya pounced on the ball in a goalmouth scrum and fired it past keeper Toni Ribera for the lead.

But Kashiwa's raucous fans had barely finished celebrating when Real equalised. On the very next attack, Jorge Camunas picked the ball up midway inside Reysol's half and manoeuvred to the area before blasting a low shot past Leo Kokubo.

It was Kashiwa's turn to counter-punch, and they did in the 23rd minute. A poor clearance on a Ribera save fell to the feet of Hiryu Okuda, who easily finished for a 2-1 lead. Real followed the script, finding another equaliser in the 60th minute, courtesy of a Juan Latasa header off a Camunas cross. With penalties looming—the method of Real's win over Kashiwa last year—Kashiwa erased memories of 2017. In the 88th minute, Sohki Tamura found Hosoya in the area, and his goal sent the Japanese side to the semifinals, where they'll play mighty Benfica.

The last quarter-final match saw a different kind of drama, as a scoreless full time gave way to a penalty shootout. PSG prevailed, 4-2, dealing Aspire Football Dreams a tough loss in a game they largely controlled. The first half saw PSG's Massinissa Oufella hit the woodwork with a rocket shot, followed by AFD's Christian Otabil having his own scoring chance turned away by PSG keeper Trey Vimalin.

Vimalin remained a thorn in AFD's side in the second half, and never more than late in the game, when AFD's Umar Lutalo stepped to the spot for a penalty kick following a handball in the area. Vimalin, at full stretch, somehow stopped Lutalo's low shot, and the game went to penalties.

In the shootout, Appiah Kubi turned away PSG's first effort, but Vimalin answered with a save of his own on AFD's third shot, and their fourth went high. Alexandre Fressange calmly slotted home the winner, sending PSG to the semi-finals.

In today's matches, Aspire Academy and Aspire Football Dreams face off at 3:30 pm, followed by Real Madrid and AC Milan at 5:55 pm. The winners will play each other in the fifth-place game on Tuesday, with the losers fighting for seventh the same day.

Tomorrow, the semi-finals get underway with Espérance de Tunis going up against Paris Saint-Germain. That will be followed by Kashiwa Reysol versus Benfica for the other spot in Wednesday's tournament final.