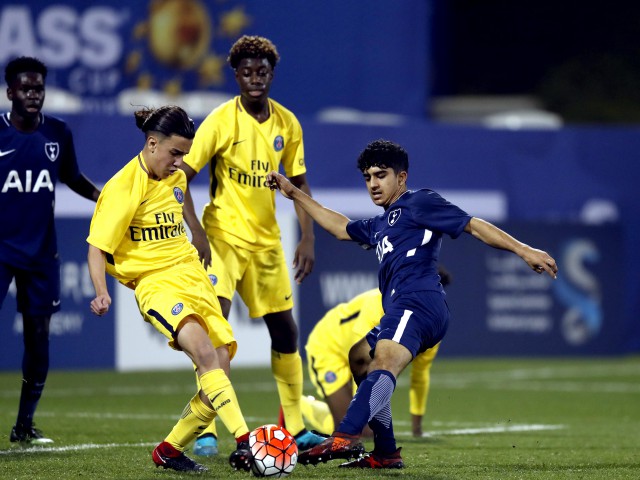 PARIS PREVAIL AGAINST TIRED TOTTENHAM
The third game of Day 3 at Al Kass 2018 was also the most eagerly anticipated. Paris Saint-Germain – ever-present at all seven editions of the tournament, and victors in 2015 – matched up against Al Kass debutants Tottenham Hotspur.

Ultimately, PSG secured a convincing 4-2 victory against a Spurs team who were clearly feeling the aftereffects of last night's exertions. The English youngsters were extremely unfortunate to have been on the wrong end of a 3-2 scoreline the previous evening against Kashiwa Reysol, having exhibited massive potential in a game they should have won. Tonight, they had no option but to win if they were to continue their Al Kass journey.

And, to their credit, Tottenham immediately showed that they were fully focussed on the task in hand, and took the lead in remarkable fashion with the game less than two minutes old.

There seemed little danger when Paris keeper Trey Vimalin surveyed the field with the ball at his feet, but his diagonal pass to Curtis Fiawoo on the edge of the area put the defender in trouble. In desperation, he attempted to return the ball to Vimalin, only for rapid striker Enock Asante to cut out the weak pass and finish into an empty net.

Moments later, Asante almost doubled the advantage in similar circumstances, capitalising on Vimalin's suspect footwork to tackle the keeper, only for the ball to roll wide of the left-hand post.

PSG were certainly not intimidated by these early setbacks, and almost drew level when Tanguy Coulibaly pounced on a rebound but somehow fired wide, with the goal at his mercy.

Within seconds, however, the equaliser arrived when Spurs failed to clear their lines and Adil Aouchiche drilled home from 12 yards into the top right corner.

Tottenham were suddenly on the back foot, and a marauding run down the right by Ruben Providence ended with an inviting cross that was only just cleared.

Midfielder Edmond Maghoma had controlled the game against Kashiwa, but initially struggled to impose himself on proceedings, with fatigue or tactical tweaks possible factors as he sat deep. Instead, Tottenham were reliant on Jneil Bennett as their primary attacking outlet, with his pacey runs down the left asking questions of the PSG backline.

For the Parisians, Providence was a constant threat on the right, and the tricky winger was the architect of PSG's second, on 28 minutes, when he ended a characteristic burst down the flank with an accurate low cross that Alexandre Fressange struck first time, the ball squeezing under luckless Spurs keeper Oluwaferanmi Oluwayemi.

For the remainder of the first 45, Paris kept the pressure on, with Spurs mostly pinned back in their own half. However, with the last kick of the first period, Maghoma reaffirmed his quality, curling a free kick from 25 yards that was inches wide.

Tottenham were desperate to find a way back into the game, and the tournament, but it was slow going against a PSG side who grew increasingly commanding as the second half unfolded, with Coulibaly causing constant problems for Spurs right back Maximus Tainio.

And then, out of nowhere, Tottenham levelled. Dilan Markanday, advancing into the area, was first to a high diagonal ball from deep on the right, and his touch found Asante, who made no mistake from 10 yards.

Parity lasted only two minutes, however, as Fressange fired his second of the game from close range to make it 3-2 to PSG.

On 65 minutes, Spurs head coach Scott Parker made a positive change, replacing midfielder Chukwunonso Madueke with forward Maurizio Pochettino Grippaldi, who instantly took up an advanced position on the right wing. With PSG winning the battle in the centre of the pitch, the tactical switch was perhaps an attempt to exploit the wide areas.

However, Paris appeared more than capable of repelling Spurs' attacks, defending in numbers and breaking at speed wherever possible. This approach reaped further reward on 76 minutes when Loic Soh met a low cross six yards out and made no mistake with a first-time effort.

Facing a 4-2 deficit, all seemed lost for Spurs, and Parker responded by withdrawing goalscorer Asante on 78 minutes for Max Robson, perhaps with a view to giving competitive match experience to the young midfielder. A couple of minutes later, Marqes Muir also made his tournament bow, replacing Luis Binks in the Spurs backline.

The changes did nothing to alter the course of the game, as PSG ultimately ran out worthy winners against a Tottenham side who had promised much but eventually ran out of steam.