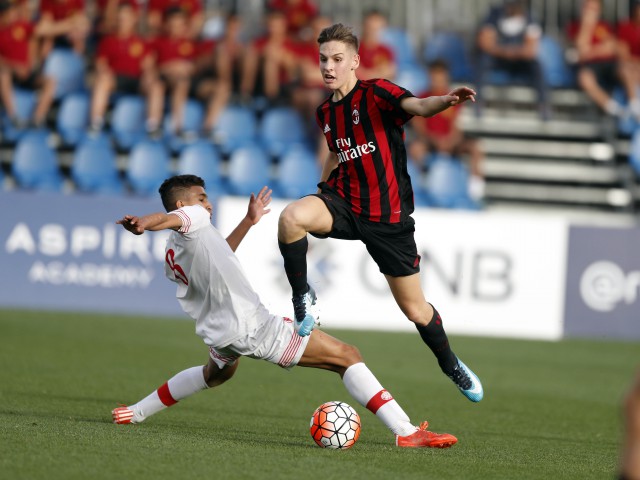 MILAN'S DOMINANCE FINALLY BRINGS REWARD AGAINST WYDAD
AC Milan secured a narrow one-goal victory over Wydad, despite dominating the match from start to finish. The Moroccans had goalkeeper Taha Mourid to thank for keeping the scoreline respectable, although it was his error that allowed the Italians to prevail, after he had conjured a series of world-class saves.

Milan's players would have been aware of their club's proud history at Al Kass, and of how progress from U-17 level to first team is possible. Striker Patrick Cutrone was one of the star players of Al Kass 2014, when Milan finished third. He is now lighting up Serie A, having come through the Rossoneri's ranks. Cutrone's career trajectory provides an inspiration to the Al Kass Class of 2018, and proof that talent, dedication and application can eventually bring success.

And, a pre-match glance at the teamsheet revealed one name that epitomises footballing success –Maldini. Unlike Paolo, his legendary father, Daniel Maldini is a forward. However, on his introduction to Al Kass, he will have quickly learned that an illustrious family name counts for nothing on the pitch at Aspire. Felled by a crunching tackle in the 8th minute, Maldini initially struggled to impose himself on proceedings, as did his teammates.

Wydad had come off second best in a highly physical encounter against Esperance Tunis on Sunday evening, but this time round they were given more time on the ball to settle.

While Wydad tended to sit deep, Milan adopted an adventurous approach, with three attackers supported by two advanced midfielders when in possession. The best of the early chances fell to Milan skipper Riccardo Tonin on 13 minutes, who rose unmarked to glance a header wide of the left-hand post.

Then, a moment of brilliance from Maldini almost led to the opener, when his free kick from 25 yards looked to be flying into the top right corner, only to be expertly tipped over by Mourid.

However, the Wydad stopper was a mere spectator when, around the half-hour mark, Sianka Haidara smashed a volley onto the woodwork from just inside the area.

Soon after, a marauding run from Giacomo Olzer was brought to an abrupt halt by a wild challenge from Wydad captain Mhammed Rabii, who was booked. Olzer took the free kick himself, and forced another impressive save from Mourid, low to his right.

Milan were now firmly on top, controlling possession and crafting all the chances. It seemed only a matter of time before they turned their dominance into goals.

With 10 minutes of the half remaining, Maldini should have scored after he latched onto Riccardo Bruni's low cross from the right, but he somehow contrived to miscue his effort from a few yards out.

In the absence of goals, the game became increasingly physical, with wild challenges flying in and tempers fraying. Referee Ahmed Hussain did well to keep things flowing, when the temptation must have been to reach for his cards.

The first half finished goalless, with Milan rueing a host of missed opportunities, and Wydad grateful to still be in the game.

The second period got underway with Milan reasserting their dominance, creating and wasting many chances. The best of these arrived on 52 minutes, when Tonin
teed up Olzer – by now, his team's standout performer – who fired just over from the edge of the area.

Moments later, their best chance of the game arrived when the referee awarded a penalty to Milan. Tonin stepped up and shot well, but Mourid produced an outstanding save, and Haidara sliced the rebound horribly wide.

A nasty collision on the hour mark between Wydad's Aziz Mouncef and Milan keeper Leonardo Uzzo, as they competed to get on the end of a high ball, saw both players require treatment. The unfortunate Uzzo was forced from the field, to be replaced by Niccolo Zanellato.

By now, Wydad were beginning to display some attacking intent – albeit with little end product – as Milan's frustration grew. It was now the Italians' turn to sit deep as Tonin and Olzer became more isolated up front. Head Coach Simone Baldo introduced some fresh legs, with Alberto Barazzetta and Edoardo Brusa replacing Maldini and Andrea Porrini. Re-energised, Milan once again laid siege to the Wydad goal, with wave upon wave of attacks repelled by the Moroccan backline.

The Italians had wasted so many chances that it was surprising when they finally went ahead in the 78th minute. Mourid somehow let a straightforward shot squirm under his body, leaving Niccolo Corti with the simplest of finishes. In truth, it was no more than the Rossoneri deserved, although it was desperately unfortunate for Wydad's keeper, who had easily been their man of the match up to that point.

Despite facing imminent elimination, Wydad maintained their conservative formation, reluctant to commit players forward in search of a precious equaliser. Ultimately, they paid the price, as Milan saw the remaining minutes out with a minimum of fuss.