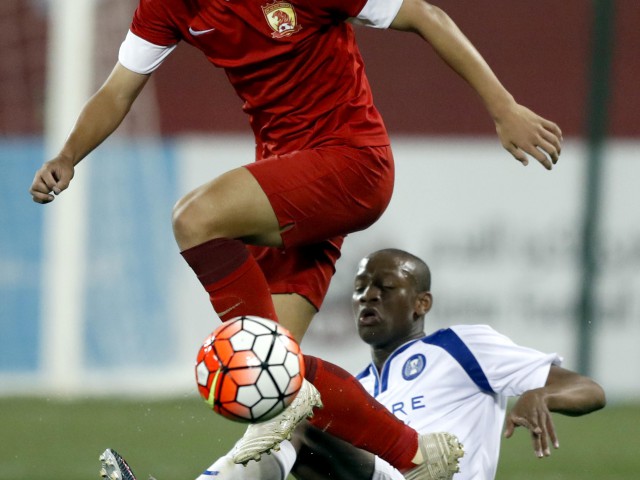 Experts Say – Guangzhou vs Aspire Academy
Chris Makins – Al Kass Analyst

Aspire Academy was completely in possession of the ball in the first few minutes, and they were giving away a lot of chances. Guangzhou's first goal of the tournament came in 22 minutes into the game, as Kaiyuan Tan took full advantage of the free kick and shot right into the box, when the goalkeeper was down and stretching from a fall. After that goal, Aspire just kept trying to get back into the game. It was a wonderful build up play from Aspire, but they were not really making it to the mark. It was just before halftime, when Naif Alhadhrami brought in that equalizing goal for Aspire Academy.

Both teams were putting in good pressure in the second half, and it was difficult to predict any outcome 60 minutes into the match. Guangzhou had a couple of good shots, which always ended up sideways outside the box. There were a lot of injuries, and both goalkeepers seemed to have cramps towards the end of the second half. It was still 1-1 at the end of 90 minutes, and 4 minutes extra time was added.

Nick Summerbee – Al Kass Analyst

It was a good first touch by Aspire Academy in the very first minute of the match, and in the first two minutes into the match they had already missed two great opportunities. As I always say, these players have to think forward as early as possible to make a difference in the game. For a long time there was a battle of free kicks from both teams in midfield. It was when Guangzhou came in with that first goal that I realized what a difference 24 hours could make for Guangzhou. It looked like the Chinese team was really enjoying the game tonight. It was a wonderful start of the game, but Aspire was looking a bit lost and out of ideas. It was absolutely a super goal from Aspire Academy towards the end of the first half, when Naif came in with an amazing layout and made it 1-1 for the local team.

We were looking at 50-50 chances when the second half started. Guangzhou displayed more energy, compared to last night, and they were also more organized tonight. Both teams were giving away a lot of chances in the second half. There was a bit of heated play 63 minutes into the game – it was just two players pushing each other, and the referee was about to give a penalty. It was a good thing he changed his mind, because this definitely did not deserve a penalty.