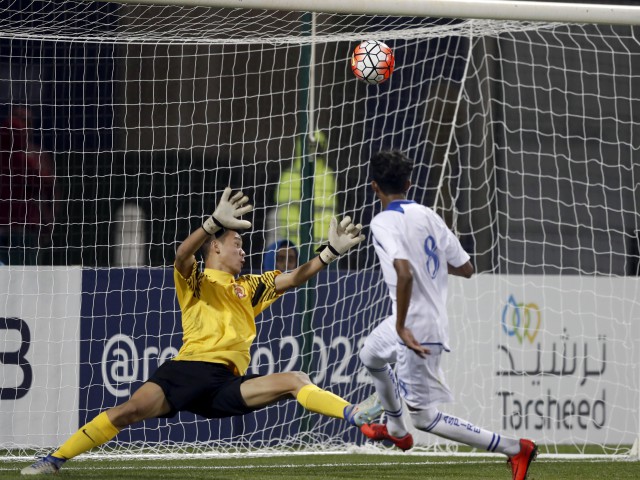 ASPIRE ACADEMY OPEN WITH A DRAW AGAINST GRITTY GUANGZHOU
Aspire Academy delivered a composed performance in their opener at Al Kass 2018, drawing 1-1 against a rejuvenated Guangzhou Evergrande side, who showed few aftereffects following their 4-0 reverse to Benfica the previous evening.

Aspire started brightly, only for their smooth approach play to be stifled by the tough-tackling Guangzhou backline.

In their initial Al Kass outing, Evergrande had managed only one shot on target, and their attacking intent remained distinctly limited in the opening period of their second match, as they struggled to contain an assured Aspire side.

In contrast to the previous evening, however, Guangzhou's team looked well-balanced this time round, with centre forward Pahaerding Airexiding provided with plenty of support.

And, on 15 minutes, they could – and should - have gone ahead when Sai Ruen, unmarked at the far post, sliced high and wide when he might have done better.

Aspire had gotten off lightly, but they were made to pay seven minutes later, when Yujie Zang was fouled on the right side of the area, with his teammates incorrectly calling for a penalty.

Aspire keeper Mahmoud Abunada could not hold Abudouhiani Kaisaier's ferociously struck low free kick, and Kaiyuan Tan slotted home the rebound from two yards.

On the half hour mark, Aspire won a free kick on the edge of the area, which Ahmed Alganehi pulled just wide, as the home side recovered their poise.

And, with five minutes of the first half remaining, they found their reward when Alganehi met a superb cross-field ball from Abdulla Al-Ali on the volley, side-footing his first-time cross for Naif Alhadhrami to apply an expert finish.

A goal that will live long in the memory, it was the least Aspire deserved for their tenacious approach against highly physical opponents, and a fascinating second half beckoned.

Despite having played a gruelling match just 24 hours earlier, Guangzhou coach had made just three changes to his outfield starting line-up against Aspire. And, as the second 45 minutes got underway, it remained to be seen whether they could maintain their high-energy approach. Like their Qatari counterparts, they initially struggled to create clear chances.

On 65 minutes, Aspire's Hadi Tabasideh saw his long range, angled drive drifted just over, as the Academy began to impose themselves. Still full of running, and technically proficient, they remained patient as they searched for a breakthrough.

At the same time, the disciplined Academy backline limited Guangzhou to the occasional effort from distance, with Zang firing high with 20 minutes remaining.

However, with the clock ticking down, the prospect of a draw grew ever more likely. Despite their previous exertions – and repeated bouts of cramp among their tiring players - Evergrande continued to compete for every ball, making life difficult at every turn for the Academy.

Ultimately, despite their best efforts, Aspire were unable to break the deadlock. Their second and final group game will see them match up against a strong Benfica side on Wednesday. Providing that they can avoid defeat by fewer than four goals, progress to the knockout phase is assured. Based on their opening performance, it is the least that this talented team of local players deserve.