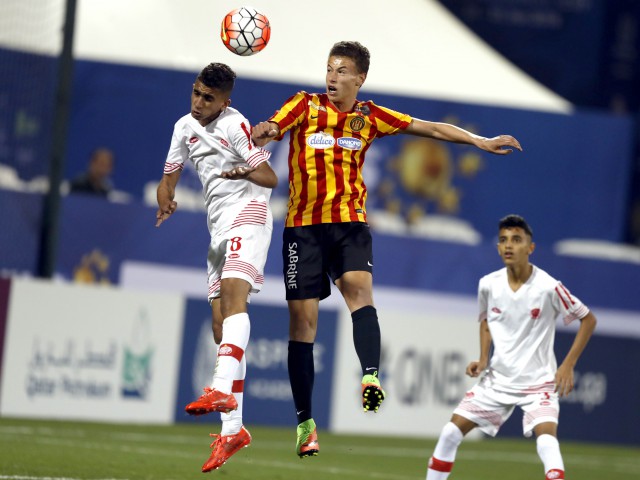 WYDAD CHASTENED BY ESPERANCE EXPERIENCE
The final game of Day One at Al Kass delivered a hotly contested 'North African derby' in which Esperance Tunis prevailed by three goals to nil over Wydad, their Moroccan rivals.

Esperance were welcomed onto the pitch by a vocal support, who sang loudly throughout. And, during a feisty encounter, their team's combative approach – personified by the giant Wael Dhouibi in deep midfield – largely nullified Wydad's attacking intentions.

Clear-cut chances were few and far between in the early stages, with little time on the ball afforded for either side. Esperance, in their red and yellow shirts, resembled a swarm of bees as they buzzed feverishly around their opponents.

Yet it was Wydad who almost went ahead on the half-hour mark, when Mounir Elharcha cut in from the left and curled a low shot inches wide of the far post. His fine effort proved to be the trigger for the game to burst into life.

Five minutes later, Esperance took the lead when Farouk Mimouni connected with a cross from the right, his scuffed effort deceiving Wydad keeper Taha Mourid and rolling into the net.

Within a minute it was 2-0, when Zied Berrima met a cutback from the right to find the bottom left corner.

Dhouibi, never far from the action, was felled by a stray elbow soon after, necessitating a stoppage while he received treatment, though he was fine to continue.

However, it was Esperance, in working to protect their lead, who were in danger of losing their discipline, conceding a series of needless fouls in quick succession. They almost paid the price on the stroke of half time when Nadir Lougmani swung in a free kick from the right for Mhammed Rabbii to power a header goalward, only to be thwarted by a fine save from Fares Jebali.

Despite facing an uphill battle to overturn a two-goal deficit, Wydad were unable to carve out significant attacking opportunities as the second half got underway, with Tunis' stubborn backline repelling opposition advances whenever they arose.

As the game entered its final quarter, Esperance were reduced to ten men when Hassen Rebah was sent off following a wild challenge on Lougmani, though the resultant free kick did not trouble keeper Jebali. Despite their numerical disadvantage, the Tunisians continued to keep Wydad at bay, aside from a fine long-range attempt from Elharcha, which forced an athletic save from Jebali.

And, with seven minutes remaining, Mohamed Yaccoubi made it 3-0, attacking an inviting right wing cross from Berrima to plant a close-range header past the despairing reach of Mourid.

Ultimately, Esperance were good value for their victory, combining a strong team ethic with a highly physical approach that the Moroccans struggled to deal with. Sterner tests will undoubtedly await, but Tunis are already well placed to advance to the Al Kass knockout stages.