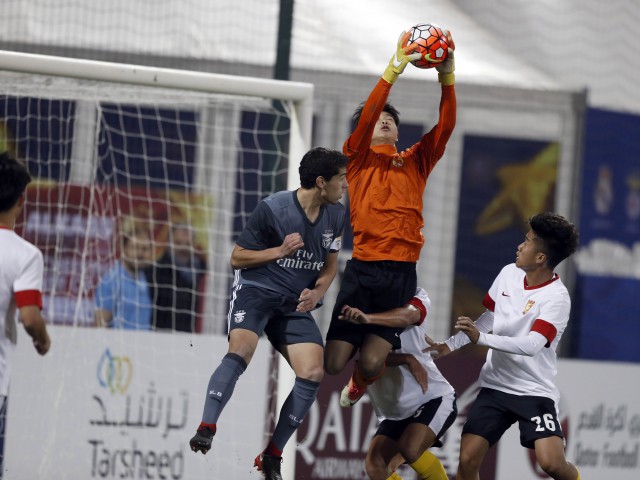 Experts Say – Guangzhou vs Benfica
Chris Makins– Al Kass Analyst

It was a great play from both teams in the first half of the game. On one hand, Guangzhou were trying to make it difficult for Benfica to get to their target, and on the other hand, the Benfica team was well organized and passed the ball around really well. There was good pressure in the first 30 minutes into the game, and great goalkeeping by Wang. Benfica missed two brilliant opportunities in the first half of the game and Hugo brought in the first goal in the 37th minute. We could see a little bit of a Maradona in there – we will always remember that goal. The second goal from Oliveira was very well deserved - he had missed several fantastic chances earlier. Benfica looked very comfortable in the end of the first half of the game tonight.

Right into the beginning of the second half Benfica missed three or four fantastic chances, and Guangzhou were also working very hard to get back into the game. During the last few minutes, the Benfica players seemed to be toying around with Guangzhou. Hugo scored the fourth goal for Benfica in the last few minutes into the game. We could see different styles of play tonight from the Portuguese players. This game was definitely all about Benfica.

Nick Summerbee – Al Kass Analyst

We could definitely see some quality performances from both sides 12 minutes into the game. Jair was very impressive with the ball and was building up very well. As soon as the ball came in close, the Benfica players need to stay more on the ball and use their bodies to get the ball in. The first best shot of the match was missed 30 minutes into the game - it was a great opportunity for Oliveira, and he missed it. Absolutely loved that first goal by Hugo Nunes, and it was brilliant to watch. It was the best goal we have seen in the last five or six years. Benfica brought in a second goal immediately after that, and things were starting to look good for the Portuguese by the end of the first half.

The Guangzhou spirits seemed to have drowned out a bit during the second half. They really had to hold on and keep going. Benfica were moving the ball around a lot and enjoying possession of the ball throughout the game. The Guangzhou keeper had been very busy tonight. The individual work by Jair on that third goal was brilliant. I knew Jair had something about him, from the way he had been playing tonight. I felt Benfica could have brought on even more goals tonight.