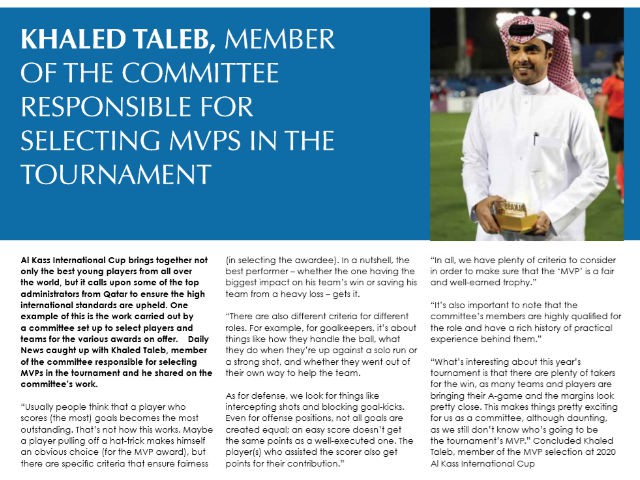 KHALED TALEB, MEMBER OF THE COMMITTEE RESPONSIBLE FOR SELECTING MVPS IN THE TOURNAMENT
Al Kass International Cup brings together not only the best young players from all over the world, but it calls upon some of the top administrators from Qatar to ensure the high international standards are upheld. One example of this is the work carried out by a committee set up to select players and teams for the various awards on offer.

Daily News caught up with Khaled Taleb, member of the committee responsible for selecting MVPs in the tournament and he shared on the committee's work.


"Usually people think that a player who scores (the most) goals becomes the most outstanding. That's not how this works. Maybe a player pulling off a hat-trick makes himself an obvious choice (for the MVP award), but there are specific criteria that ensure fairness (in selecting the awardee). In a nutshell, the best performer – whether the one having the biggest impact on his team's win or saving his team from a heavy loss – gets it.


"There are also different criteria for different roles. For example, for goalkeepers, it's about things like how they handle the ball, what they do when they're up against a solo run or a strong shot, and whether they went out of their own way to help the team.


As for defense, we look for things like intercepting shots and blocking goal-kicks. Even for offense positions, not all goals are created equal; an easy score doesn't get the same points as a well-executed one. The player(s) who assisted the scorer also get points for their contribution."


"In all, we have plenty of criteria to consider in order to make sure that the 'MVP' is a fair and well-earned trophy."


"It's also important to note that the committee's members are highly qualified for the role and have a rich history of practical experience behind them."


"What's interesting about this year's tournament is that there are plenty of takers for the win, as many teams and players are bringing their A-game and the margins look pretty close. This makes things pretty exciting for us as a committee, although daunting, as we still don't know who's going to be the tournament's MVP," concluded Khaled Taleb, member of the MVP selection at 2020 Al Kass International Cup