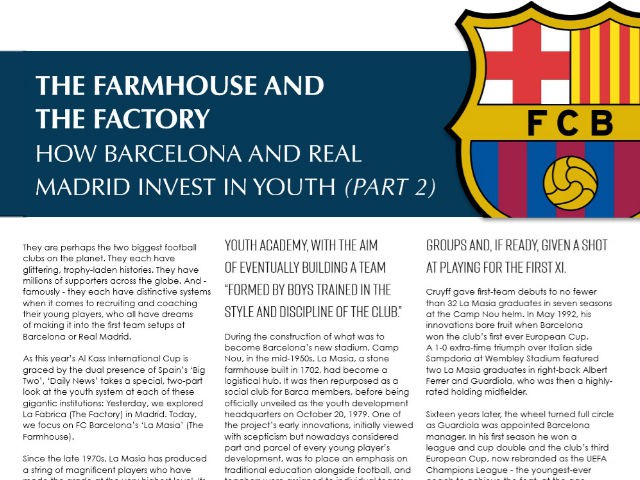 THE FARMHOUSE AND THE FACTORY HOW BARCELONA AND REAL MADRID INVEST IN YOUTH (PART 2)
They are perhaps the two biggest football clubs on the planet. They each have glittering, trophy-laden histories. They have millions of supporters across the globe. And - famously - they each have distinctive systems when it comes to recruiting and coaching their young players, who all have dreams of making it into the first team setups at Barcelona or Real Madrid.


As this year's Al Kass International Cup is graced by the dual presence of Spain's 'Big Two', 'Daily News' takes a special, two-part look at the youth system at each of these gigantic institutions: Yesterday, we explored La Fabrica (The Factory) in Madrid. Today, we focus on FC Barcelona's 'La Masia' (The Farmhouse).


Since the late 1970s, La Masia has produced a string of magnificent players who have made the grade at the very highest level. Its illustrious rollcall includes the man whose goal gave Spain its first World Cup final triumph; one of the leading managers in the game today; and arguably the finest footballer in history. And Andrés Iniesta, Pep Guardiola and Lionel Messi are just three of the many multitalented maestros who have passed through the doors of La Masia on their way to becoming some of the brightest stars in world football.


Although La Masia was officially founded in 1979, Barcelona's youth policy can be traced back 120 years. It was in 1901 that Lluís d'Ossó - the club's secretary of the board of directors and sometime striker - created their second, third and fourth-string sides.


In 1918, a directive came from the club's hierarchy to establish more youth and children's teams.

However, it was many years before the visionary idea of La Masia begun to crystallise.


The election of Enric Llaudet as Barcelona's president in 1961 was largely predicated upon his promise to create a residential youth academy, with the aim of eventually building a team "formed by boys trained in the style and discipline of the club."


During the construction of what was to become Barcelona's new stadium, Camp Nou, in the mid-1950s, La Masia, a stone farmhouse built in 1702, had become a logistical hub. It was then repurposed as a social club for Barca members, before being officially unveiled as the youth development headquarters on October 20, 1979. One of the project's early innovations, initially viewed with scepticism but nowadays considered part and parcel of every young player's development, was to place an emphasis on traditional education alongside football, and teachers were assigned to individual teams.


Despite adopting this holistic approach, evidence of tangible progress remained elusive. And, by the 1980s, La Masia's relative stagnation was compounded by the resounding success of arch-rivals Real Madrid's youth system. However, in May 1988, Johan Cruyff was appointed club manager. Suddenly, everything changed.


One of Cruyff's first decisions was to make the 3-4-3 formation mandatory across the club's 13 sides, with rapid attacking play placed at the heart of Barca's footballing philosophy. Moreover, the Dutch legend was keen to see young players pushed out of their comfort zones to learn the game at a quicker pace, fast-tracked through the age groups and, if ready, given a shot at playing for the first XI.


Cruyff gave first-team debuts to no fewer than 32 La Masia graduates in seven seasons at the Camp Nou helm. In May 1992, his innovations bore fruit when Barcelona won the club's first ever European Cup. A 1-0 extra-time triumph over Italian side Sampdoria at Wembley Stadium featured two La Masia graduates in right-back Albert Ferrer and Guardiola, who was then a highlyrated holding midfielder.


Sixteen years later, the wheel turned full circle as Guardiola was appointed Barcelona manager. In his first season he won a league and cup double and the club's third European Cup, now rebranded as the UEFA Champions League - the youngest-ever coach to achieve the feat, at the age of just 38.


Another European crown followed within two years, with Guardiola intent on utilising La Masia-honed talent as far as possible. Indeed, Barca's 2009 and 2011 Champions League final line-ups featured seven homegrown players, confirming their youth development programme as the most successful of the modern era.

Yet, nothing lasts forever, and the same year that Barcelona played Manchester United off the park in the 2011 final, the original La Masia building was closed and replaced by a new purpose-built facility, albeit one which retained the old name. A year later, Guardiola left Barca, having led the club to an astonishing 14 honours in just four years. On the national stage, nine of the Spanish squad that lifted the World Cup in 2010 were La Masia graduates, including match-winner Iniesta.


Since those incredible high points, Barcelona's recruitment policy has become a little more conventional, and they have made some major deals for the likes of Neymar, Luis Suarez and Philippe Coutinho.

Nevertheless, youth players continue to make the fabled journey from La Masia to Camp Nou, including midfielder Carles Alena and utility man Sergi Roberto.


This year's crop of Under-16s has suffered great misfortune in being eliminated from Al Kass International Cup at the group stage, given that many seasoned observers felt they were the best side in the tournament. But regardless of this setback, the players can hold their heads high, safe in the knowledge that they continue to carry the torch of La Masia.