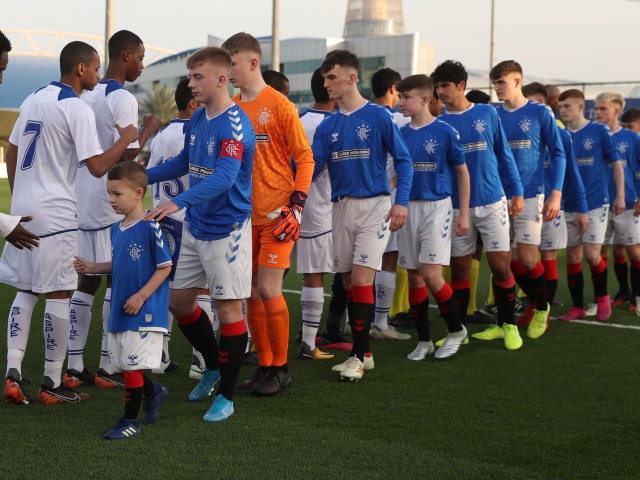 ASPIRE SECURE TOP SPOT AFTER AN AL KASS GOALFEST
Hosts Aspire Academy and reigning champions Glasgow Rangers played out the first draw of this year's Al Kass International Cup, sharing the points after an eight-goal thriller.
Both sides were already assured of qualification so made plenty of changes from their respective victories over Suwon Samsung, Aspire fielding just four of the players who started the opener and Rangers selecting five of their first choice XI.
Rangers needed to win to top the group but they got off to a nightmare start, going behind after just two minutes. Abdulrahman Al-Dosari swung in a cross from the left but the Rangers defence dithered, allowing the alert Mobark Hamza to open the scoring.
It was 2-0 on eight minutes as Rangers' defence was again sloppy and Mohammed Al-Quraishi showed fine control before firing a left-foot shot past Scott Cowie.
Charlie Lindsay, named as Rangers' captain after an immense match-winning performance against Suwon, pulled the Glasgow side back into the match with a perfectly-flighted free-kick after 13 minutes to give Amir Katoul no chance.
A high-scoring start to the match saw Aspire restore their two-goal lead on 17 minutes when Talal Al-Raeesi was given plenty of space and he let fly from long range, sending the ball just out of Cowie's reach.
A fifth goal followed on 29 minutes as
Rangers reduced the arrears with a welltaken effort by powerful striker Adedire Mebude. Zak McKay sent a fine cross in from the right and London-born Mebude, whose brother Dapo recently made his Rangers debut at the age of just 17, held off two challenges before scoring with an angled drive.
Cowie gifted Aspire their fourth goal on 38th minutes when he parried Al-Quraishi's cross straight into the path of Abdulaziz Al-Naimi who made no mistake.
Rangers reduced the arrears to 4-3 on 41 minutes, Lindsay tucking the ball under the keeper after Mebude had flicked it into his path.
Cowie was replaced by Jack McConnell at half-time and he should have been picking the ball out of the net within two minutes. Abdulaziz Al-Naimi crossed and found Hamza in plenty of space but he fired over.
Rangers twice went close to equalizing just after the hour-mark, Zak McKay firing just over and Lindsay was then denied a hat-trick by the keeper's legs. Rangers appealed for a penalty as the ball hit skipper Mohammad Ali's hand before reaching Lindsay.
Rangers attacking play was impressive but they were sloppy at the back and on-loan
American professional Francis Jacobs, on his first start for the club, totally miskicked in his own area but Al-Dosari failed to take advantage.
Within seconds, Rangers broke up the other end and Robbie Ure, who netted against Suwon in the opener, fired over. Kyle Semple also went close for Rangers as they chased an equalizer, although they needed to win to top the group.
Rangers finally grabbed an equalizer in the 88th minute as Lindsay's flick sent through Ure and his shot was parried to Rory Wilson to score. Wilson had only come on two minutes earlier but there was a hint of offside about his goal.
The first-half goalfest had suggested the two sides were going to produce the highest score in Al Kass International Cup history, but the more subdued second period means the record remains at 10 goals in a game (Barcelona 6, Manchester City 4 in 2014 and Benfica 7, Aspire 3 in 2018).
Lindsay picked up his second Most Valuable Player (MVP) award of the tournament and is already established as one of the class acts this year.
ASPIRE ACADEMY
GK Amir KATOUL
DF Chalpan ABDULNASIR
DF Mohammed ALI (C )
MF Mobark HAMZA
MF Jassem ALSHARSHANI
FW Mohammed AL-QURAISHI
DF Talal AL-RAEESI
MF Abdulaziz AL-NAIMI
DF Yousif ELNOIRI
MF Abdulrahman AL-DOSARI
MF Abdulrahman AL-NAIMI
RANGERS FC
DF Chalpan ABDULNASIR
DF Mohammed ALI (C )
MF Mobark HAMZA
MF Jassem ALSHARSHANI
FW Mohammed AL-QURAISHI
DF Talal AL-RAEESI
MF Abdulaziz AL-NAIMI
DF Yousif ELNOIRI
MF Abdulrahman AL-DOSARI
MF Abdulrahman AL-NAIMI
GK Scott Callum Jon COWIE
DF Kyle Andrew SEMPLE
MF Darren MCINALLY
MF Charlie LINDSAY (C )
FW Adedire AWOKOYA MEBUDE
DF Bobby DEANE
DF Zak David MCKAY
DF Jake David WALLACE
MF Gavin Andrew GALLAGHER
MF Johannes Kristinn
BJARNASON
MF Francis Newman JACOBS