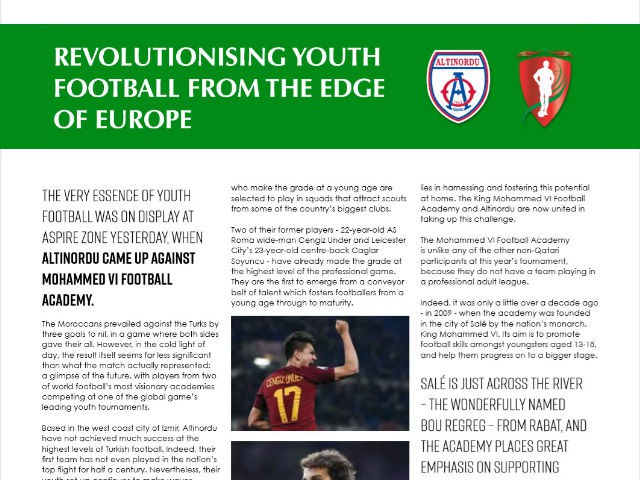 Revolutionising Youth Football From The Edge of Europe
The very essence of youth football was on display at Aspire Zone yesterday, when Altinordu came up against Mohammed VI Football Academy.


The Moroccans prevailed against the Turks by three goals to nil, in a game where both sides gave their all. However, in the cold light of day, the result itself seems far less significant than what the match actually represented: a glimpse of the future, with players from two of world football's most visionary academies competing at one of the global game's leading youth tournaments.


Based in the west coast city of Izmir, Altinordu have not achieved much success at the highest levels of Turkish football. Indeed, their first team has not even played in the nation's top flight for half a century. Nevertheless, their youth set-up continues to make waves.


Altinordu's motto – Good Person, Good Citizen, Good Footballer – is much more than a media soundbite. The personal advancement of players is considered to be just as important as their professional progress. The club boasts no fewer than 25 football pitches, based in four facilities across Izmir and Aydun. Around 130 football schools, and more than 12,000 players, are part of the Altinordu youth set-up.


The youngsters are continuously monitored, and their progress keenly observed by coaches over the course of a year. Those who make the grade at a young age are selected to play in squads that attract scouts from some of the country's biggest clubs.

Two of their former players - 22-year-old AS Roma wide-man Cengiz Under and Leicester City's 23-year-old centre-back Caglar Soyuncu - have already made the grade at the highest level of the professional game. They are the first to emerge from a conveyor belt of talent which fosters footballers from a young age through to maturity.

Just as Al Kass International Cup is renowned as a world-leading youth tournament, the same can be said for the International U12 Izmir Cup, which is organised by Altinordu. Both competitions attract the world's leading youth sides, and Aspire Academy have made the trip to compete in Turkey in recent years alongside the likes of Manchester City, Chelsea, AC Milan, Lazio, Paris Saint Germain, and Ajax.


From a footballing perspective, Turkey and Morocco have much in common: passionate fans; distinctive styles of play; and rich, largely untapped potential on the world stage. Both the Turkish and Moroccan diasporas have produced a string of topclass players, epitomised by the likes of Mesut Özil and Hakim Ziyech, but the challenge lies in harnessing and fostering this potential at home. The King Mohammed VI Football Academy and Altinordu are now united in taking up this challenge.


The Mohammed VI Football Academy is unlike any of the other non-Qatari participants at this year's tournament, because they do not have a team playing in a professional adult league.


Indeed, it was only a little over a decade ago - in 2009 - when the academy was founded in the city of Salé by the nation's monarch, King Mohammed VI. Its aim is to promote football skills amongst youngsters aged 13-18, and help them progress on to a bigger stage. Salé is just across the river – the wonderfully named Bou Regreg – from Rabat, and the academy places great emphasis on supporting underprivileged youngsters growing up in the country's capital, by combining sports and study.


Its ambition was highlighted late last year, when a three-year partnership with French Ligue 1 outfit Olympique Lyonnais was announced. In fact, the tremendous success of the academy has also led to the establishment of similar bodies in other Moroccan cities including Tangier and Agadir.


The academy is designed to encourage focus and a sense of community. Its grounds are arranged like a traditional douar (hamlet), with five buildings - accommodating administrative, sports, teaching, lodging and catering functions – positioned around a central 'village square'. Each has a central landscaped patio for relaxation. The patio walls are painted in colours that reflect traditional aspects of Morocco, while the buildings' imposing exteriors are a sober white. Local ochre earth ties the complex to its environment, and is textured with gravel, river stones, concrete paving and timber decking.


Many Moroccan companies have lent their support to the project, as the academy is technically a non-profit organisation. The monarch himself has also provided significant financial aid towards the academy.
It's almost 2,000 miles from Salé to Izmir, each sitting on the west coast of their respective nations. They are on the periphery of Europe where, for several generations, thousands of Turks and Moroccans have migrated in search of work. Of course, Europe is also the global epicentre of the football industry, but Altinordu and the Mohammed VI Football Academy are already taking significant steps to redress the power balance. The scale of their success thus far can be measured on the pitches of Aspire Zone this week.