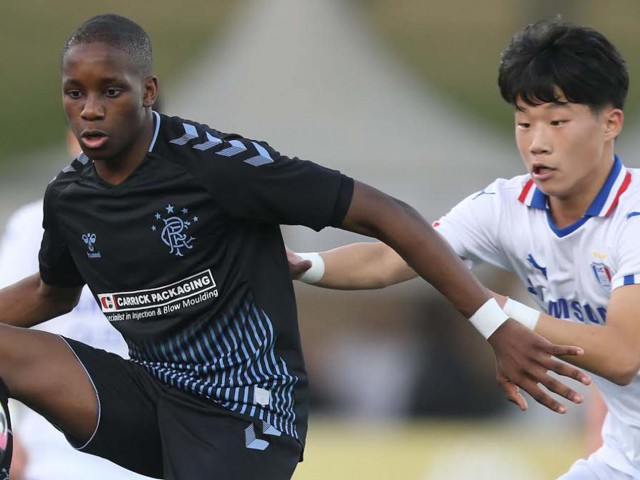 Reigning Champions Rangers Snatch Late Winner to Knock Unlucky Suwon
Reigning champions Glasgow Rangers grabbed a last-gasp winner to send battling Koreans Suwon Samsung out of contention for the Al Kass International Cup.

Suwon had led in both of their games, but fail to reach the knock-out stage after defeats to Aspire Academy (3-1) and now Rangers (3-2).


The Koreans twice took the lead but after grabbing a 77th minute equalizer they pushed for a winner and it was player of the match Charlie Lindsay who snatched it in the 93rd minute.
Suwon had the better of the early exchanges and Cheolgyu Han outpaced Bobby Dean to latch onto a long ball but Jack McConnnell in goal for Rangers pulled off a fine save.


In a game of few chances, Suwon hit the post of the half-hour mark when Jihun Yoon sent in a high cross from the right and as Han tried to connect with his head, the ball deceived him and the keeper before hitting the post.


The opening goal came on 34 minutes when Seongjin Lee, who had just been booked, connected beautifully with a low drive from outside of the box. There was no apparent danger when he received the ball but he easily held off Leyton Dunlop and went past Connor Allan before letting fly to beat McConnell at the near post.


Suwong deserved their half-time lead, having enjoyed 55% possession and had five shots to Rangers' one, but the Scots started the second half much better.
They equalised on 48th minute when Lindsay burst into the box and unselfishly pulled the ball back for skipper Robbie Ure to fire home. Ure has already featured in Rangers' reserve team this season, which is not unusual as the Glasgow club tend to play a lot of their youngsters at a higher group to speed up their development.


Rangers almost added a second when the influential Lindsay held off Jeyi Lee but saw his shot saved. As Rangers pushed for a second, Scottish youth international Dire Mebude – whose elder brother Dapo is one of the best young talents at the club, fired a powerful shot that was saved with the ball then just deceiving Ure.
Suwong took the lead again on 65 minutes with a rather fortuitous goal. Han had a great chance to score but Kelsey Ewen lunged to block his effort, only for Mohsen Al Sharshani to point to the spot. Sangmin Lee took the spot kick but tried a Penanka which lacked the height and McConnell really should have saved it.


Rangers levelled when Harkness sent a harmless high ball into the box and the keeper, under no pressure, opted to punch but made a mess of it and Icelandic youngster Johannes Bjarnason headed into an empty net, despite the efforts of Jongseok Yu to reach it.


Substitute Francis Jacobs, who only linked up with the club five days earlier after joining on loan from their American partner club Orange County, almost found Mebude with a wonderful chip as he displayed the ability that saw him become the youngest professional footballer in US history.
Rangers finished strongly with Ure seeing a powerful shot saved and Jacobs then setting up Mebude who fired into the side netting.


Hyunjin almost paid the price for his tendency to punch when he again opted not to catch and Lindsay almost caught him out with a lob that the keeper scrambled back to catch. But Lindsay made no mistake when gifted a 93rd minute tap-in after Ure's attempted pass ricocheted into his path.