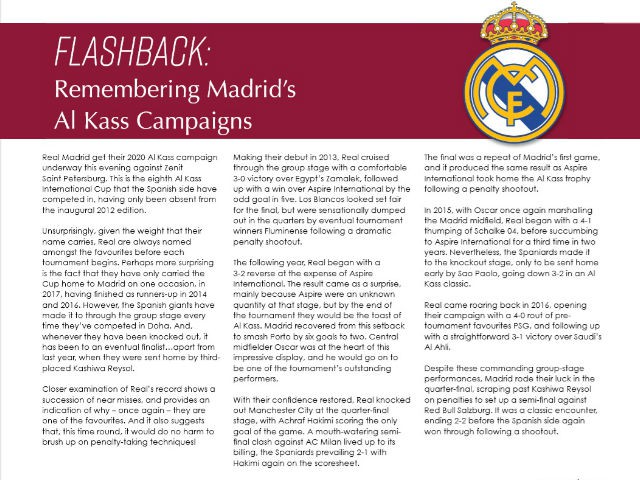 Remembering Madrid's Al Kass Campaigns
Real Madrid get their 2020 Al Kass campaign underway this evening against Zenit Saint Petersburg. This is the eighth Al Kass International Cup that the Spanish side have competed in, having only been absent from the inaugural 2012 edition.


Unsurprisingly, given the weight that their name carries, Real are always named amongst the favourites before each tournament begins. Perhaps more surprising is the fact that they have only carried the Cup home to Madrid on one occasion, in 2017, having finished as runners-up in 2014 and 2016. However, the Spanish giants have made it to through the group stage every time they've competed in Doha. And, whenever they have been knocked out, it has been to an eventual finalist…apart from last year, when they were sent home by thirdplaced Kashiwa Reysol.


Closer examination of Real's record shows a succession of near misses, and provides an indication of why – once again – they are one of the favourites. And it also suggests that, this time round, it would do no harm to brush up on penalty-taking techniques!


Making their debut in 2013, Real cruised through the group stage with a comfortable 3-0 victory over Egypt's Zamalek, followed up with a win over Aspire International by the odd goal in five. Los Blancos looked set fair for the final, but were sensationally dumped out in the quarters by eventual tournament winners Fluminense following a dramatic penalty shootout.


The following year, Real began with a 3-2 reverse at the expense of Aspire International. The result came as a surprise, mainly because Aspire were an unknown quantity at that stage, but by the end of the tournament they would be the toast of Al Kass. Madrid recovered from this setback to smash Porto by six goals to two. Central midfielder Oscar was at the heart of this impressive display, and he would go on to be one of the tournament's outstanding performers.


With their confidence restored, Real knocked out Manchester City at the quarter-final stage, with Achraf Hakimi scoring the only goal of the game. A mouth-watering semifinal clash against AC Milan lived up to its billing, the Spaniards prevailing 2-1 with Hakimi again on the scoresheet.


The final was a repeat of Madrid's first game, and it produced the same result as Aspire International took home the Al Kass trophy following a penalty shootout.


In 2015, with Oscar once again marshalling the Madrid midfield, Real began with a 4-1 thumping of Schalke 04, before succumbing to Aspire International for a third time in two years. Nevertheless, the Spaniards made it to the knockout stage, only to be sent home early by Sao Paolo, going down 3-2 in an Al Kass classic.


Real came roaring back in 2016, opening their campaign with a 4-0 rout of pretournament favourites PSG, and following up with a straightforward 3-1 victory over Saudi's Al Ahli.


Despite these commanding group-stage performances, Madrid rode their luck in the quarter-final, scraping past Kashiwa Reysol on penalties to set up a semi-final against Red Bull Salzburg. It was a classic encounter, ending 2-2 before the Spanish side again won through following a shootout.
However, if Real had been fortunate to win two consecutive games on penalties, their luck ran out in the final when Aspire Football Dreams deservedly won 2-0 to lift the 2016 Al Kass International Cup.


Having reached the final twice in three years, 2017 was the year when Real Madrid finally beat all-comers to become Al Kass champions. Beginning with a 6-1 hammering of Al Ahli, the Spaniards put a 2-1 reverse to PSG in their second game behind them, squeezing past Kashiwa Reysol on penalties to reach the semis.
Their opponents were Eintracht Frankfurt – a repeat of what is considered to be the greatest European Cup final of all time, when Real defeated the Germans 7-3. This semi ended with the rather more conventional scoreline of 3-1, and Madrid then lifted the trophy after a 2-1 win over Aspire. No team has successfully defended their title in Al Kass history, and Madrid proved to be no different in 2018. Yet they began in indomitable fashion with a 6-2 triumph over Fenerbahce, before drawing 1-1 with Aspire Football Dreams to ease into the quarterfinals. But they would go no further, with Kashiwa Reysol producing the shock of the tournament to beat the Spaniards 3-2 in a tremendous contest.


And, last year, the Japanese youngsters once again accounted for Real at the quarter final stage, after the Spaniards had spluttered to a 3-2 victory over Spartak Moscow before drawing to Suwon Samsung in the group stage. One of the most striking elements of the Real Madrid at Al Kass story is that, despite arriving in Doha with a strong side every year, none of their players have gone on to play regularly for the senior team.


Of those who stood out in previous years, Achraf Hakimi moved on loan to Borussia Dortmund after making nine appearances for Los Blancos, while Oscar is currently turning out for Leganes, again on loan from Real. Madrid tend to buy readymade talent from around the world for their first team, making it all the more difficult for homegrown youngsters to make the breakthrough.


For the Class of 2020, the Al Kass International Cup will be an ideal opportunity to prove their credentials against tough, talented and determined opponents.