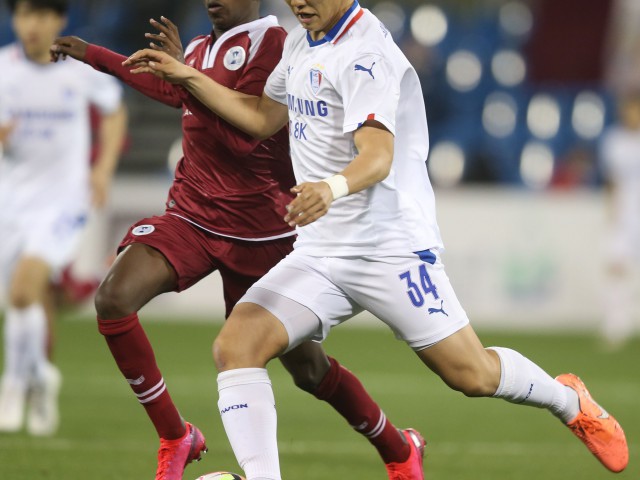 Hosts Aspiring to Become Al Kass Champions Following Convincing Start
Aspire Academy 3 - 1 Suwon Samsung

Hosts Aspire Academy made a winning start to the ninth Al Kass International Cup, with a solid 3-1 victory over Koreans Suwon Samsung.
Aspire, once again displaying a steely nature to go with their undoubted skill and hardworking attitude, came from behind to record a deserved victory.


The game was physical from the start and Mohamed Surag went into the book with just five minutes on the clock after his high foot caught Junbo Shim, who needed treatment for a cut to the head.
Shim was still off the pitch receiving treatment when Aspire had their first effort of the game on seven minutes but Surag's free-kick hit the wall and went wide.


Suwon went ahead on 12 minutes when skipper Seongho Lee sent a looping header over Amir Katoul following a fine cross by Hyeongpin Lee. Sangmin Lee started the move when receiving the ball on the left wing and beating off several challenges to force his way into the box before the ball bobbled to Hyeongpin Lee and his fine cross was met by the skipper, who got to the ball before Hassan Alghareeb and headed home.


The Koreans had started positively but Aspire responded well to the setback and were the better team for much of the half. They deservedly equalized on 31 minutes when Yousef Elkhatib drove home a low right-foot shot after Jassem Alsharshani's goalbound effort had been touched onto the post.
Surag then finished well to put the hosts ahead on 52 minutes following a defense-splitting pass from Mahdi Almejaba, and it was no more than Luca Nardi's side deserved.


Aspire were very much the better team but Suwon substitute Hojun Yoo gave a warning sign that the Koreans couldn't be ignored as he had an effort on goal that was well blocked midway through the second half.


Another Suwon opportunity came following a corner five minutes later but Shim couldn't keep his far-post header down.
Aspire made sure of victory three minutes from time when substitute Abdulaziz Al-Naimi floated in a curling free-kick from the left and Mobark Hamza threw himself at it but couldn't get his head to the ball as it went straight past the keeper into the net.


Aspire felt they should have had a penalty shortly afterwards when Mohammed Al-Quraishi was tugged back by Shim on the edge of the box but Abdurahman Al Saoud waved away the appeals.
It was a deserved win for Aspire, who had former Australian international and FIFA 2022 ambassador Tim Cahill among their coaches. Aspire have played a major role in the emergence of Qatar's national team in recent years, with several of its graduates going on to represent Felix Sanchez's side.


With interest in football continuing to grow the nearer we get to 2022, the hosts are hoping they can now go on to see off the big guns of PSG, Real Madrid and Barcelona to be crowned Al Kass champions.
Aspire, unlucky to go out at the semi-final stage last year when Roma defeated them on penalties, will take on reigning champions Glasgow Rangers on Monday when they can expect to face a tougher test against the skillful Scots.


Aspire Academy
1 Amir Katoul
2 Chalpan Abdulnaser
3 Saifeldeen Fadlala
4 Mohammed Ali ©
5 Hassan Alghareeb
6 Mostafa Abouelela
7 Mobark Hamza
8 Jassem Alsharshani
10 Mahdi Almejaba
11 Mohamed Surag
12 Yousef Elkhatib
Subs: Abdella Abrahim, Mohammed Al-Quraishi, Talal Al-Raeesi, Abdulaziz Al-Naimi, Yousif Elnoiri, Talal Al Shaaibi, Abdurahman Al-Dosari, Abdelrahman Ahmed, Abdulrahman Al-Naimi


Suwon Samsung
1 Hyunjin Joo
21 Seongho Lee ©
26 Junseo Park
28 Junsu Kim
29 Hyeongjin Moon
30 Sangmin Lee
32 Seongjin Kim
34 Jeyi Lee
37 Hyeongpin Lee
40 Jongseok Yu
42 Junbo Shim
Subs: Cheolgyu Han, Daniel Choi, Heesu Song, Taesung Kwon, Hojun Yoo, Seokki Hwang, Jihun Yoon, Eungyeoi Kim, Yusang Jeon