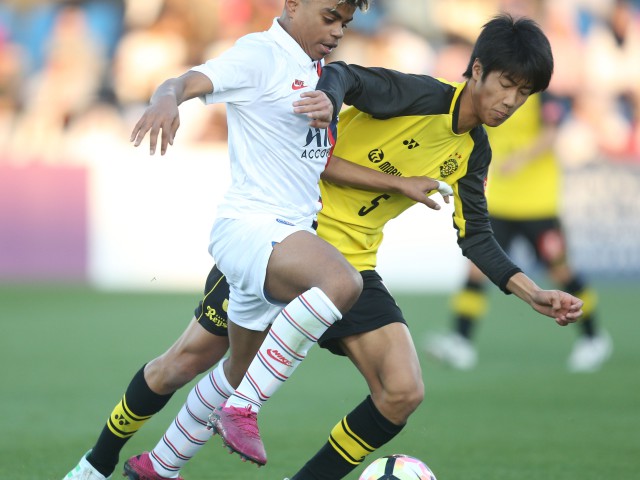 Gharbi at the double for Perfect Parisians
Paris Saint-Germain 3 - 0 Kashiwa Reysol

Paris Saint Germain, the most successful club in the history of the Al Kass International Cup, got the ninth edition of arguably the world's best Under 16 tournament off to a fine start with an impressive victory over Japanese outfit Kashiwa Reysol.


The two clubs had met in the final of the 2018 edition, when PSG recorded their third success in the competition, and Herve Guegan's promising youngsters will now be hoping to add to that trophy haul in the first competition since the tournament became an Under 16 event,
PSG were better than Kashiwa in every department, displaying great skill to open up Kashiwa on numerous occasions with French Under 16 international Ismael Gharbi scoring twice before substitute Yohan Tade made it 3-0 in the 92nd minute.


Al Duhail striker Mario Mandzukic, who recently moved to Qatar from Italian giants Juventus, was the guest of honor and he would have been impressed with the talented Parisians.
Lively winger Pascal Lemina had the ball in the net on six minutes with a low right-foot drive but his effort was ruled out for offside. Lemina again found himself in space two minutes later and his right wing cross found Ilyes Housni who tried an acrobatic backheel flick that went wide.


PSG went close to scoring the tournament's first goal after half an hour with a good low effort by talented midfielder Ismael Gharbi after Lemina had again caused Kashiwa problems, but Takumi Itoh got down well to save.


Gharbi fared better on 35 minutes when giving PSG a deserved lead. Ryoga Tanaka was harshly adjudged to have handled a high ball into the box by Housni and Abdulkareem Al Anazi pointed to the spot. Gharbi sent Itoh the wrong way with a well-taken spot-kick and it was no more than the Parisians deserved as they had dominated the game up to that point.


PSG had a golden chance to double their advantage shortly after the break but Jouvence Americo was stretching for the ball and couldn't keep his effort down.
PSG produced the move of the match on 55 minutes when Vimoj Mungu and Americo combined down the left and Housni's effort was on target but lacked the power to cross the line and Kashiwa were able to clear.


Lemina then saw an effort blocked after the talented duo of Mungu and Americo again opened up the Japanese defense.
PSG deservedly doubled their advantage on 63 minutes when Lemina found Housni on the right and his cross set up player of the match Gharbi for his second goal of the match.
As PSG turned on the pressure substitute Wilson Odobert saw a powerful right-foot shot saved by Itoh, but it seemed only a matter of time before the French side increased their lead.
Kashiwa forced a good save by Henri Maton after an excellent turn by Ota Yammamoto and the Japanese striker then tried his luck with a header without troubling the PSG keeper.
Lemina limped after 77 minutes after an excellent performance and Kashiwa almost reduced the arrears two minutes later but Yammamoto was again denied by Maton.
Two PSG substitutes combined the PSG's third in added on time when Odobert found Yohan Tade who produced a fine shot into the corner to complete the scoring.


The three-goal victory was thoroughly deserved by PSG, who will now face Barcelona on Monday.
PSG
1 Henri Maton
2 Hugo Lamy
3 Vimoj Mungu
4 Nehemiah Fernandez Veliz ©
5 El Chadaille Bitshiabu
6 Warren Zaire Emery
8 Ayman Kari
9 Ilyes Housni
10 Ismael Gharbi
11 Jouvence Americo
17 Pascal Lemina
Subs: Louis Mouquet, Wilson Odobert, Gloire Bunga Capitad, Sekou Doucoure, Younes El Hannach, Erzo Tayamoutou, Yohan Tade


Kashiwa Reysol
1 Takumi Itoh
4 Go Otsuki ©
5 Ryunosuke Hanamatsu
8 Takamu Nakamura
9 Ota Yamamoto
11 Kai Adachi
12 Yudai Matsumoto
20 Ryoga Tanaka
22 Toi Ohashi
23 Isshin Takizawa
26 Tsubasa Kebatia
Subs: Yota Yanagi, Fuarazansana Mohamado, Shoma Kurita, Tori Nichimura, Kaisei Oki, Nobuhiro Konno, Ayuto Date, Homi Kato.