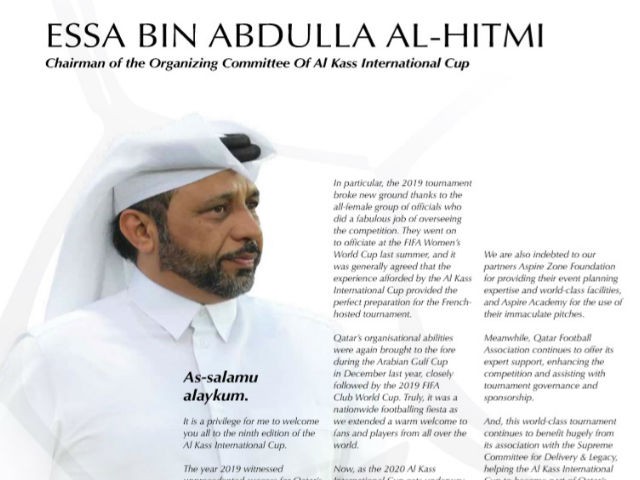 Essa bin Abdulla Al-Hitmi - Chairman of the Organising Committee of Al Kass International Cup
As-salamu alaykum.

It is a privilege for me to welcome you all to the ninth edition of the Al Kass International Cup.

The year 2019 witnessed unprecedented success for Qatar's football sector, both on and off the pitch. As a nation, we came into the Al Kass International Cup with a tremendous feeling of pride after our national team's historic Asian Cup victory. And, last year's Al Kass tournament was among the very best we have seen, with Rangers deservedly taking home the trophy after a series of outstanding displays. In truth, though, every team that competed here emerged with great credit, and further enhanced the competition's – and the nation's - global reputation for delivering superbly well-organised and thrilling sporting contests.

In particular, the 2019 tournament broke new ground thanks to the all-female group of officials who did a fabulous job of overseeing the competition. They went on to officiate at the FIFA Women's World Cup last summer, and it was generally agreed that the experience afforded by the Al Kass International Cup provided the perfect preparation for the French-hosted tournament.

Qatar's organisational abilities were again brought to the fore during the Arabian Gulf Cup in December last year, closely followed by the 2019 FIFA Club World Cup. Truly, it was a nationwide footballing fiesta as we extended a warm welcome to fans and players from all over the world.

Now, as the 2020 Al Kass International Cup gets underway, we once again extend the hand of friendship to all the clubs who have arrived in Doha to create another memorable spectacle. Regardless of which team emerges as the winner, the victory will be shared by all who love football, and cherish sport as a way to promote peace, understanding and dialogue.

Attention will, of course, be focussed on the pitch over the next 12 days, but it is important to remember how much careful planning and preparation has gone into ensuring the success of the tournament. I would like to extend my sincere gratitude to the Organising Committee for the hard work they have put in ahead of this competition. We are also indebted to our partners Aspire Zone Foundation for providing their event planning expertise and world-class facilities, and Aspire Academy for the use of their immaculate pitches.

Meanwhile, Qatar Football Association continues to offer its expert support, enhancing the competition and assisting with tournament governance and sponsorship.

And, this world-class tournament continues to benefit hugely from its association with the Supreme Committee for Delivery & Legacy, helping the Al Kass International Cup to become part of Qatar's unique footballing vision.

I wish all competing teams the very best of luck for the coming tournament, as football fans across the world witness the stars of tomorrow, today.

Let the games begin!