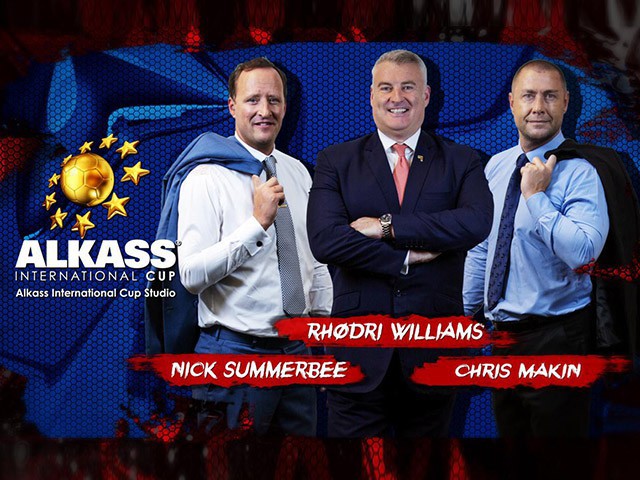 Ask The Experts
Rhodri Williams, Producer and Presenter of English Programmes at Al Kass Sports Channels
What I look forward to every year in the Al Kass International Cup is a very high standard of football. Young talented players giving their all. Each and every player is just one step away from playing at the highest level with their club and to see their focus, effort and commitment as they seek to realise their dream is fantastic to watch.

Trying to pick a winner before the start of the tournament is impossible with so many excellent teams. We haven't seen Barcelona here for a few years, but I'm sure they'll be there in the final stages, as will Real Madrid. PSG are previous winners, and it will be Interesting to see how Rangers will cope trying to defend their title. I am going to be expecting a lot from Inter Milan this year - maybe it is time that an Italian side lifted the trophy.

I think my favourite moment is always seeing the joy on the faces of the winners each year. Winning the Al Kass International Cup means so much to these young players. Last year brought a tear to my eye and a lump to my throat when I saw Rangers parade the trophy the day after winning it, back home in front of a packed house at Ibrox in Glasgow. It was a very special moment.

Nick Summerbee, Al Kass Sports Channels Analyst
I am looking forward to seeing Sporting Lisbon, and hopefully getting to see the next Ronaldo! Also Rangers - they were fantastic last year, and it will be interesting to see whether they can do it again. But above all, I would love a big tournament from Barcelona – they've only been here twice before, and never even got as far as the semi-finals, so I am hoping that 2020 could be their year.

I must say, I thought Rangers were brilliant last year. It was their first tournament and they gave it everything and got a lot out of it. Steven Gerrard sent his message through before the final wishing his players all the best, and to win it and then go back to a packed Ibrox with the trophy straight from getting of the plane from Qatar, and on to the pitch to parade the trophy was a special moment!

My other memories have been just to get the lucky opportunity to see these players before they become stars, and there have been over 30 players now who've played Champions Leagues, World Cups et cetera. Do I need to say any more? This is the best tournament in the world!

Chris Makin, Al Kass Sports Channels Analyst
I always get excited around this time of year before the tournament, because you get to see a lot of new faces that come over, and you see a lot of old faces, and we all turn up and have a good chat and predict who is going to win the next tournament. You always get a good feeling beforehand when you talk to the coaches. They're quite upfront and truthful, and they'll always tell you if they have a good squad or not.

I'm looking forward to seeing Rangers again – I thought they did really well last year. Some of the football they played, alongside Roma, was outstanding, so Rangers hopefully will have a good team. And then you've got the Italians and the Spanish, so there's a fabulous mix of teams that are coming over.

I thought last year was the best tournament we've covered. It had that feeling beforehand, and it developed into a great competition because of the level of football that was played, building all the way up to the final with Rangers and Roma. Even the final was a tight affair, but the football was outstanding, and also the crowds as well. Esperance and the atmosphere they brought, and also the Rangers fans, added to the feel of the event.

When it comes to trying to predict a winner, I find it so difficult, but I don't think you can look past Paris Saint-Germain, because they've got such a great record over here. They didn't do so well last year, but it always tends to come in waves with PSG, where they seem to win it after every couple of years or so.

The one thing I'm looking forward to more than anything is having a look at whoever is going to be the next big star. There'll be 12 teams competing, and I'm not really one for looking at the teams as a whole. I tend to focus on the outstanding players from each team, so I'm trying to look for the next big talent that's going to break through.