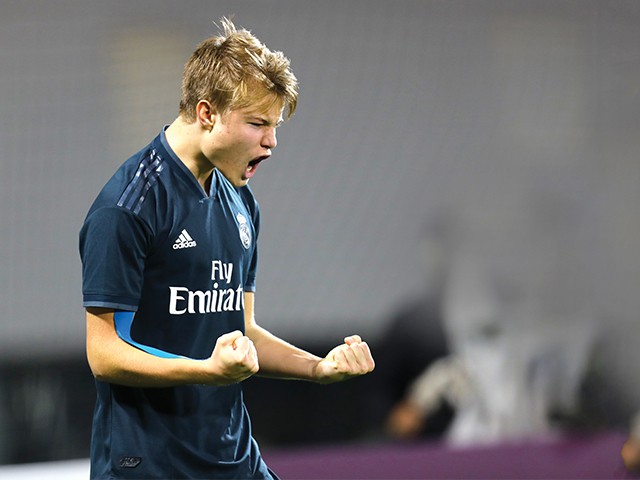 Developing A Winning Mentality From A Young Age
Real Madrid have shown they know what is required to win the Alkass International Cup, having done so in 2017, and of course the Spaniards are among the world's most successful clubs at senior level.

The La Liga outfit are one of the most glamorous clubs in the world, so few players would find it easy to turn down the opportunity to join them, and opposition teams always raise their game when facing Los Blancos.

Real fans have become accustomed to seeing some of the world's greatest players wearing their colors. From Alfredo Di Stefano and Ferenc Puskas in the 1950s to the likes of Hugo Sánchez, Zinedine Zidane, David Beckham, Cristiano Ronaldo in more recent times, and Gareth Bale and Karim Benzema in the current team, Real Madrid have a long history of attracting the very best.
One of their current squad, central midfielder Oscar Rodriguez, twice played at the Alkass International Cup in 2014 and 2015 and he totally ran the show with some superb performances.
Another current Real player, Brahim Diaz, also played here in 2014 - albeit not in the white of Real. Diaz, said to have the dribbling skills of Lionel Messi, had just joined Manchester City from Malaga when he lined up at Aspire, but he has recently signed for Real and great things are expected from him.

Zidane's sons Enzo and Luca have also played here, with contrasting fortunes. Enzo was sent off after just nine minutes against Aspire Football Dreams in 2013 but Luca helped Real to the final 12 months later, when he was skipper of the side that lost to Aspire International in the showpiece.
Whether there are any future 'Galácticos - Spanish for galactics, referring to superstars – in the Real Madrid Under 17 side currently playing in the Alkass tournament remains to be seen, but there are seven internationals in their squad and they have shown glimpses of quality so far in the tournament.

Pau Aran and Icelandic teenager Andri Gudjohnsen, whose father Eidur played for Real's arch rivals Barcelona, have already showcased their talent during this tournament and their neat build-up play and tidy passing suggests they are already being taught the 'Real' way to play football.
Manuel Fernandez Gomez, Head Coach of the Real Under 17 side, said: "The Real Madrid style is that a player can adapt to whatever the game demands. What we try to give them in training is the resources that they need, depending on the game's demands. We train concepts, both defensive and offensive, that are useful for them in the field.

"At Real Madrid, we prepare our players to play different models of the game. If they
need to play counter-attack, they have to know how; if they need to play a positional game, they have to know how; if they have to play directly, they have to know how; and if they have to defend in a high block, they have to know how. We give them all the tools that they need to do that."

Real showed plenty of determination in both of their group games, keeping a spirited Spartak Moscow side at bay in the second half of their opening match to hold on for a 3-2 win, and then displaying a never say die attitude to grab a late equaliser against South Korean side Suwon Samsung.

Playing for a club like Real Madrid, even at Under 17 level, brings extra pressure for young players but the coaches do their best to give them the qualities they need to cope with any situation.
Gomez added: "I'm not sure if pressure is the right word, but of course we are at a club where we are expected to win. In the youth teams, we need to help them evolve them, we need to prepare them, but we cannot forget in which club we are that by its nature needs to win every single game that we play.

"Whether you train the Under 8 boys, the Under 17s or the first team, always in this club you have to win. But I think that the players enjoy that responsibility, and it prepares them to play at professional level. They will want to win every single game. They will need to play with that idea, with that pressure if you want to use that word. I prefer to describe it as winning mentality."

Real's first team have lacked that winning touch this season, possibly missing the goal scoring prowess of Ronaldo, but Gomez will be hoping his squad can take some silverware back to Madrid next week.