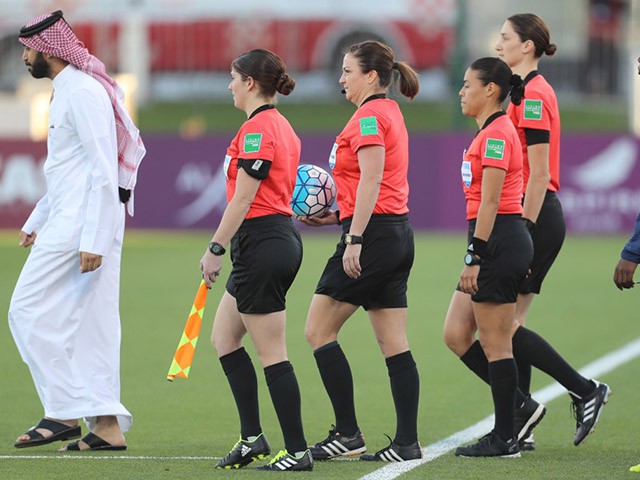 All-Female Teams of FIFA Referees To Officiate The Alkass International Cup
Each year, the Alkass International Cup features some of the best young footballers from across the globe in a unique, world-class setting. Therefore, it is a necessity to move with the times. This year, the tournament has two firsts, the implementation of a VAR system and an all-female team of referees – a rarity in men's international football.

Ahead of the eighth edition of the FIFA Women's World Cup, which will be held in nine cities across France between the 7th of June and the 7th of July, the Alkass International Cup offers a chance for the very same referees to officiate in another international setting.

This February, FIFA are holding a seminar for both male and female referees in Doha, and the women are linking up with the Alkass International Cup to continue their preparation for the World Cup in June.

It is not the first time that female referees have been selected for a men's international football tournament. In 2017, seven female match officials were picked as support referees for the FIFA U-17 World Cup in India. Reflecting a change in football worldwide, a statement by the tournament's organising committee said,
"For the first-ever time, FIFA has selected female referees for a men's tournament. The results and improvements seen in the joint preparations have shown that the time has come for the elite female referees to officiate in men's competitions together with their male colleagues."
In another first for the Alkass International Cup, this year the refereeing teams will be using Video Assisted Refereeing (VAR), a system whereby an assistant referee reviews decisions made with the use of video footage. In 2018, VARs were written into the Laws of the Game by the International Football Association Board (IFAB) following trials in a number of major competitions.

Of late, VAR has started to be implemented internationally. Having been used most recently from the quarter-finals of the 2019 AFC Asian Cup onwards, this summer it was implemented at the 2018 FIFA World Cup in Russia, for the first time in a World Cup. It is also in operation in Italy and Germany's top divisions, as well as some FA Cup and Carabao Cup games in England. VAR is set to be introduced in the English Premier League next season, following "non-live" trials this season.